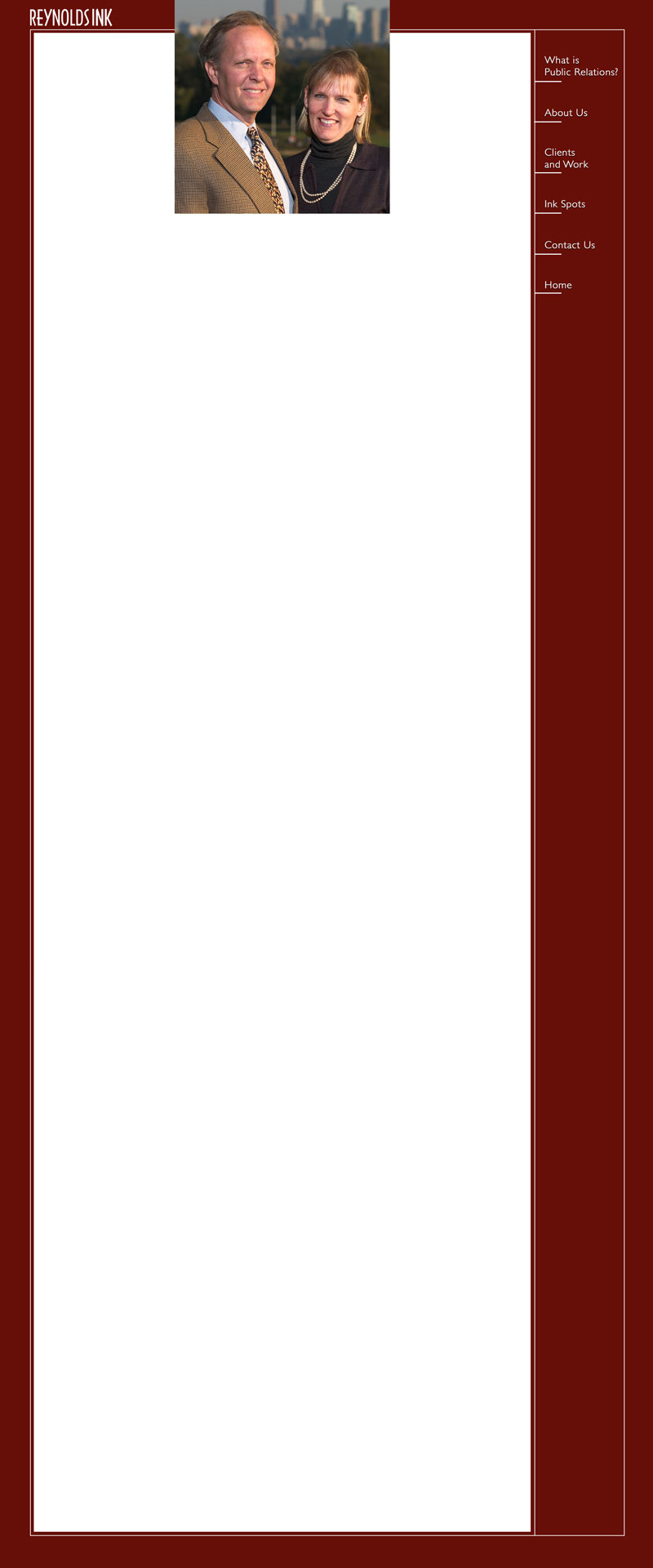 A Philadelphia area communications and public relations firm focusing on special events, professional and nonprofit organizations since 1987.
Chris Reynolds
Partner, Reynolds Ink
1957: Born to English mother and American father, New London, PA. Spends early years at home in dairy country, learning to walk, talk, read, write, and avoid cow pies.

1963: Drops English accent for American upon entering school.

1966: Founds Black Cats Club with several friends. Minutes are actually kept.

1970: Reflects wistfully that he has no childhood nickname.

1971: Discovers girls; grades plummet.

1973: Discovers cars; value of father's Sunbeam Alpine plummets.

1975: Sporting yellow pin-striped tux, picks up prom date in family's Torino wagon. Graduates shortly thereafter from Tatnall School, Wilmington, DE.

1979: Graduates from University of Virginia with distinction; B.A. in English and no idea of what to do next. While awaiting epiphany, paints houses.

1980: Free-lances for such high-paying periodicals as ZIP (the magazine of direct mail marketers) and the Kennett (PA) News & Advertiser.

1981: Lands job at Kalish & Rice Advertising in PR department. Immediately gets tie caught in IBM Selectric.

1982: Meets Jennifer when she is hired by K&R, begins clandestine dating arrangement which whole agency knows about within hours.

1982: Chooses romance over job, leaving agency to become Assistant Director of Communications for then-Fortune 500 Westmoreland Coal Company. Splits time between Philadelphia office and mines in coal country. Learns to chew tobacco and write financials.

1985: Becomes the youngest elder of Old Pine Presbyterian Church, Society Hill, Philadelphia.

1987: Chris & Jennifer marry at Old Pine Presbyterian Church two days after Chris turns 30. Too much trauma in two days.

1988: Joins board of Philadelphia Committee to End Homelessness (PCEH).

1989: Brazenly calls Oscar winner Garrett Brown, a Philadelphia resident, and asks to borrow Brown's invention, a Steadi-Cam, to shoot a film for PCEH. Brown offers to shoot it himself with a new, smaller Steadi-Cam. The small Steadi-Cam is all very nice, but Chris is more dazzled by Brown's new-fangled toy, a mobile phone that cost only $600 and is as small as a loaf of bread.

1991: First son Ian born.

1994: Because the price finally came down, receives first cell phone as birthday present, in order to be summoned in case Jennifer goes into labor. Second son Hugh born.

1994: Brother-in-law moves to Rome with State Department, instructs entire family to buy a "modem" and sign up for "email." Reynolds Ink receives perhaps one email per week, usually from Rome.

1995: Chris, Jennifer and two children travel to Italy to sponge off brother-and-sister-in-law before he is reassigned to another posting. Toddler Hugh breaks his leg in Tuscany and spends a night in the Baby Hospital of Florence. Chris speaks respectable high school French with the doctors, the only common language found. No charge for the medical care in socialized Italy.

1997: Third son Malcolm born. Reynolds Ink website launches.

1999: Returns to UVA for 20th reunion; Katie Couric visits table and says "Chris Reynolds, I remember you!" After chatting charmingly, she asks if table will babysit her purse while she visits friends. Hours later, people are posing for photos with Katie's purse.

2004: Joins library expansion committee of Helen Kate Furness Free Library, adding many more meetings to schedule.

2007: Becomes an elder of Swarthmore Presbyterian Church, adding yet more meetings to schedule.
Jennifer Reynolds
Partner, Reynolds Ink
1958: Born in Ottawa, Kansas, third child, first girl

1960: Family moves to tiny Gardner, Kansas

1961: Teaches self to ride orange bicycle without training wheels in first and last flash of natural athleticism

1963: Forces mother to stay in the playground while registering self for kindergarten

1966: Younger brother born, years of babysitting begin

1967: Family moves to Columbia, MO, a metropolis with traffic lights, national chain stores, and fast-food joints.

1972: Wins first prize (Abbey Road album) in science class writing contest

1974: Learns to drive brother's Willys Jeep; much cooler than family's Rambler wagon

1976: Graduates from Rock Bridge High School

1980: Graduates from Denison University, Granville, Ohio, mere months before new freshman Steve Carrell arrives.

1980: Takes job at McGraw-Hill Publishing in New York. Delusions of glamorous New York life quickly dashed with tiny paycheck from engineering textbook division. Cuts losses, bails after three months.

1980: Lands job at advertising behemoth J. Walter Thompson in Washington, DC.

1982: Arrives in Philadelphia, meets Chris Reynolds at Kalish & Rice's PR department.

1984: Leaves to become VP/PR at Vaden Communications & Marketing, a health care PR firm.

1987: Chris and Jennifer marry and wisely decide to spend one month on honeymoon in Spain.

1987: Start up Reynolds Ink out of their Old City Philadelphia loft the day after returning from honeymoon.

1988: Moves firm to spare bedroom in first house in Lansdowne, PA.

1989: Moves firm out of house to rented space in Victorian building in Lansdowne.

1991: First son Ian born

1994: Second son Hugh born

1995: Moves firm to third floor of newly purchased 100-year-old house in Rose Valley, PA

1997: Third son Malcolm born

2003: For client law firm, invents concept of ATTY Award, for positive depictions of attorneys in the arts.

2004: Offers inaugural ATTY Award to Harper Lee, via a letter to her manager. In a handwritten letter, the low-profile icon accepts.

2005: Inaugural ATTY Award ceremony held at Spector Gadon & Rosen, P.C. in Philadelphia. It was Harper Lee's first visit to Philadelphia since signing with Lippincott in 1960.

2006: Joins fundraising auction committee of beloved Helen Kate Furness Free Library in Wallingford.
2008: Launches Mothers of Brothers blog with Emily Mendell, discussing life with boys and life in general. www.mothersofbrothers.com